So I am finishing up a fan fic called Awakenings. Total Ryro fic.
Not sure if y'all have read it yet, so I'ma post up two links. The trailer and the fic itself.
Trailer
FanFic
It comes with two neato lil banners too: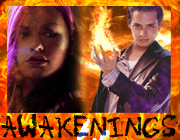 ----------
What about the rest of you? I saw closed threads from three years ago. I'm sure you guys have SOMETHING in you lil skulls.