2x10:
"Gonna Set Your Flag On Fire"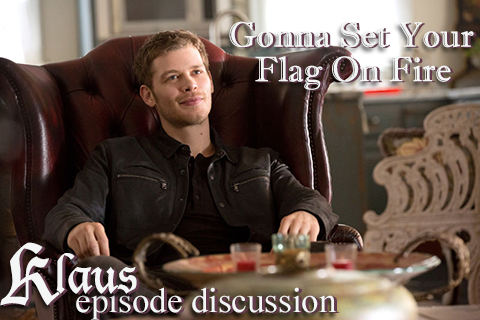 January 19th 2015 @ 8:00 p.m. Eastern

Description: WHEN TWO SIDES COLLIDE — With Vincent (guest star Yusuf Gatewood) on the loose and hell bent on revenge, Klaus (Joseph Morgan) brings Cami (Leah Pipes) to the safe house as he and Hayley (Phoebe Tonkin) return to the compound. Hayley and Jackson (guest star Nathan Parsons) devise a plan to bring the vampires and werewolves together to consider a truce, but tensions grow when Vincent places a spell on the compound, trapping the two sides together. Meanwhile, Elijah (Daniel Gillies) grows concerned when Rebekah fails to show up at the safe house, prompting Klaus to confront Kaleb (guest star Daniel Sharman) for answers. Lastly, after accepting her mother's offer to jump into a new body, Rebekah (guest star Maisie Richardson-Sellers) turns to former Harvest girl Cassie (guest star Natalie Dreyfuss) for help when she finds herself trapped inside an insane asylum. Danielle Campbell and Charles Michael Davis also star. Rob Hardy directed the episode written by Ashley Lyle & Bart Nickerson
PROMO:


RULES :
+ Some of you may not like everything about the episode. Please try to be constructive when you are criticizing something.
+ Do not insult characters/actors. Please stay positive.
+ Respect each other's ships.
+ Do not post anything that is consider as spoilers until the show airs at Eastern time in the USA.
+ Enjoy!