We will be having the FanArt Competition again this year! It officially starts November 20th, but I thought I'd start the thread early to make sure that you guys have enough time to brainstorm and create your entries. So come November 20th, please look for threads on the participating boards. And in the meantime or anytime after that, please feel free to ask any questions and encourage others to participate!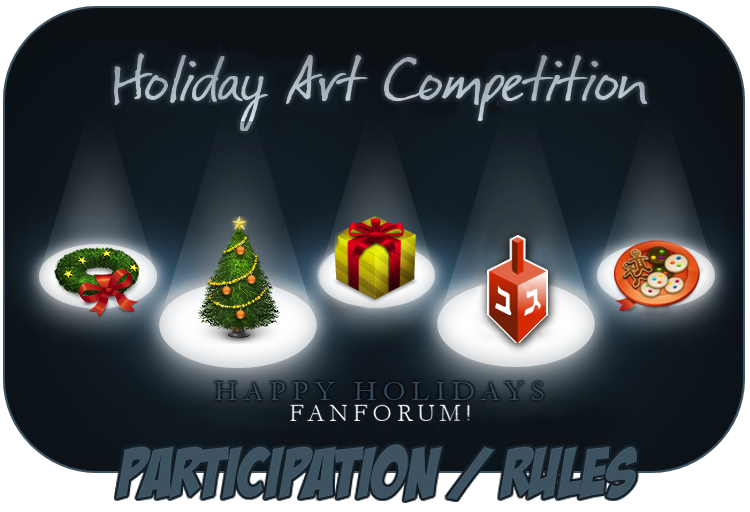 FanForum Holiday Board Art Competition
Get into the holiday spirit! Work together, and show us what your board can do!
Create a holiday themed piece of artwork on the topic of the board to submit to the competition.
Participation:
Anyone can participate! Whether it be creating a fan art or supporting your fellow board members. Visit any of the participating boards and post your submissions. If you are browsing FF and notice that someone's fanart is good and you like their style, I encourage you to send em a PM! Ask them if they know about the holiday competition
You'd be surprised how many people I've come across that love making fanarts but have not heard about the competition
Together, we can make this a really fun and a successful holiday competition
Please read all of the rules before submitting an art.
Participating boards:
90210
Alias
Angel
Autumn Reeser
Battlestar Galactica
Bethany Joy
Beverly Hills 90210
Big Brother
Bones
Britney Spears
Brothers & Sisters
Buffy
Carrie Underwood
Chad Michael Murray
Charisma Carpenter
Chuck
Couples
CSI
Dark Angel
David Boreanaz
Degrassi
Dexter
Doctor Who
Ed Westwick
Eliza Dushku
Emily Deschanel
Emma Watson
Evanescense
Evangeline Lilly
Female Celebrities
Friday Night Lights
Friends
Fringe
Gilmore Girls
Gossip Girl
Greek
Grey's Anatomy
Harry Potter
Hayden Panettiere
Heath Ledger
Heroes
High School Musical
House
How I Met Your Mother
Hugh Laurie
Instant Star
Jake Gyllenhaal
James Lafferty
James Marsters
James Van Der Beek
Jared Padalecki
Jason Dohring
Jennifer Aniston
Jensen Ackles
Joan of Arcadia
Jonas Brothers
Josh Holloway
Kate Voegele
Kelly Clarkson
Kristen Bell
Kristen Stewart
Lauren Graham
Leighton Meester
Leonardo DiCaprio
Life on Mars
Liv Tyler
Lost
Male Celebrities
Matt Czuchry
Movies
Music
Nikki Blondsky
October Road
One Tree Hill
Orlando Bloom
Patrick Dempsey
Private Practice
Pushing Daisies
Queer as Folk
Rachel Bilson
Robert Pattinson
Role Playing
Sarah Michelle Gellar
Sarah Wayne Callies
Sci-Fi/Fantasy
Scrubs
Shiri Appleby
Smallville
Snow Patrol
Sophia Bush
Star Trek
Supernatural
Television
That'70s Show
The 80's
The OC
The Office
The Secret Life of the American Teenager
Third Watch
True Blood
Twilight
Vanessa Anne Hudgens
Veronica Mars
Wentworth Miller
Without A Trace
Young Americans
Zac Efron
If you do not see a board here that you are thinking of making an art for, it does not mean you can't participate. To insure that every type of art from every poster has a place in the competition, the following two categories of art will be accepted:
Original Artwork - Drawings, photographs and anything that is your own material.
Random - Any topic/subject that does not pertain to an of the participating boards and does not fall under Movies, TV or a Male/Female Celebrities. For example, christmas trees, santa clause etc...
Arts for both of these categories can be submitted at the main competition thread on the FanArt board. Please just specify which you are submitting it for.
Rules
Each participating board will have a thread dedicated to the competition and it will be the place to discuss and post your arts. It's also a great place for suggestions. Each thread is linked above here in this post.

The art must be holiday themed and have the board name clear anywhere on the artwork. You are free to use any technique (brushes, textures etc...). For help and tutorials, the FanArt board is a great place to find it.

The artwork you submit must be exactly one of the following 3 sizes in pixels and in JPEG format; 400x300, 800x600 or 1024x768.

Final submissions should be a separate post in the thread marked with the words "to submit it for the competition" in red. This way, we will know that it is the final version of the art you would like to submit. It will be linked on the beginning post of the thread, updated frequently. If you do not see your art on that post a few days after you post it, please PM me.

Art should include your username on the bottom left of all artwork in Times New Roman, font size 12 (72 pixels per inch). Also be sure to include a separate 200x150px thumbnail in JPEG format along with your art to be used in the voting. Please do not add a border to the thumbnail.

The deadline for art submission is December 20th, 2008 5pm EST. You must have your artwork posted by that time to be considered. No exceptions. Please make sure that your upload site is reliable.

You may submit no more than 1 art per board. You may most certainly make more than one for each board and post it on the thread for people to see, however you may only submit one for the competition per board. There is no limit to how many boards you can submit an art for.

There are a couples of special notes. With regards to the TV, Male Celebrities, Female Celebrities and Music board, you may only submit an art on a topic that does not include one in which there is a separate board participating. For example:

- If you make a Kelly Clarkson art you would submit it to the Kelly Clarkson and not the Music board because Kelly Clarkson is participating in the competition.
- If you make a Dido art, the proper place to submit it would be the Music board because even though she has a board here at , it is not on the list of participating boards.

With regards to the Couples board, you may not submit an art with a movie or TV couple that is from one of the shows participating in the competition unless it features a variety of couples from different boards. For example:

- If you make a Ron and Hermione art, it must be submitted to the Harry Potter board because it is participating.
- If you make a Rose and The Doctor art, it must be submitted to the Doctor Who board because it is participating.
- If you make a Ron and Hermione art that also includes Rose and The Doctor, you should submit that to the Couples board.
- If you make a Jack and Rose Titanic art, that can be submitted to either the Movies or Couples board.

Please make sure to keep your artwork PG-13 while sticking to the Forum rules.
Voting
The voting will be as follows:
1.
Favorite for each participating board
: This will take place within a few days after the submission deadline in the form of polls, topped in each participating board. If you want to vote for a particular board, please visit that board and vote.The last day to cast your vote will be
December 25th
and the winners will be announced the next day.
2.
Favorite Overall per Category
: This will be held on the fanart board starting after the first round winners are revealed and will be open for voting until
January 1st
. Everyone is encouraged to vote.
Winner of the overall competition will be announced very soon after.
Questions
Please post your general competition questions on the board thread or the main competition thread on the
Fanart board
.
If you get confused about any deadline times and don't know how to convert to EST time, check out
this link
for what time it is currently on th east coast of the USA.
This competition was made possible by members of the Graphics Team, Administrators and the FanArt board. More importantly, the participants! We hope that you have a fun and safe holiday season!
Please ask any questions you have here.
For inspiration, here are the results of last years competition:
Current Submissions: